The Vietnamese Community from all states and territories in Australia farewells its Father and Savior – The Right Honorable Malcolm Fraser, AC, CH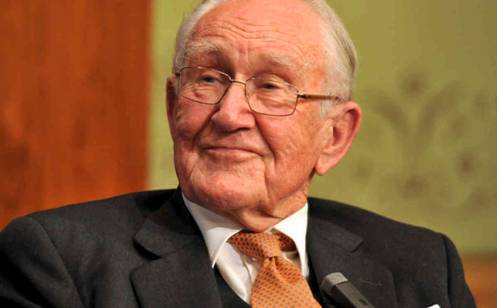 We received the news of the Rt. Hon. Malcolm Fraser's passing with deep sadness.
We wish to express our heart-felt condolences to his family and friends. In times like this, no words can bring solace to such a great loss.
Mr Fraser has been, and will remain, the father and savior of our community. He took us in, en masse, during the darkest hours of the history of Vietnam, when hundreds of thousands of Vietnamese people fled the country to escape the Communists following the Fall of Saigon 40 years ago, in 1975. Not since the abolition of the White Australia policy did this country receive such a large number of refugees from South East Asia. Many of us arrived directly in Darwin without any official paperwork and we were accepted into this country.
For that we are deeply and forever grateful.
Mr Fraser's legacy extends way beyond his generosity to the Vietnamese people. His commitment to human rights, to ending apartheid, to Aboriginal rights, to asylum seekers and his relentless pursuit of a fair and just Australia and the world had made Australia proud and Australia a better nation.
Australia is right: Malcolm Fraser had been the moral compass of this nation.
Mr. Fraser, you will remain in our hearts forever.
Farewell.
Tri Vo – President, Vietnamese Community in Australia
Bon Nguyen – President, Vietnamese Community in Australia/Vic Chapter
Thang Ha – President, Vietnamese Community in Australia/NSW Chapter
Cuong Bui – President, Vietnamese Community in Australia/QLD Chapter
Loc Doan – President, Vietnamese Community in Australia/SA Chapter
Anh Nguyen – President, Vietnamese Community in Australia/WA Chapter
Cong Le – President, Vietnamese Community in Australia/ACT Chapter
Thien Le – President, Vietnamese Community in Australia/NT Chapter
Teresa Tran – President, Vietnamese Community in Australia/Wollongong Chapter
And all the Vietnamese people in Victoria, Mr. Fraser's home state:
| | | |
| --- | --- | --- |
| Vietnamese Veterans Association of Victoria and all the Vietnamese Veterans groups families | Vietnamese Catholic Community – Melbourne | Lions Club of Melbourne Vietnamese |
| RSL Victoria | DânChúa Catholic Magazine | SICMAA |
| Descendants of the Vietnamese Veterans Association | Linh Sơn Temple (Reservoir) | VOICE Australia (Vietnamese Overseas Initiatives for Conscience Empowerment) |
| Vietnamese Cultural & Heritage Centre | Quang Minh Temple (Braybrook) | The Loving-Kindness and Compassion Society |
| Prudential & Supervisory Council of the VCA Vic | Quang Đứcc temple (Fawkner) | Vietnamese Health Professionals Association |
| Governance Committee of the Dual Identity Leadership Program | Hoa Nghiêm temple (Springvale) | Vietnamese Students Association of Victoria (VSA Vic) |
| Steering Committee of the Dual Identity Leadership Program | Baptist church (Springvale) | Vietnamese Students Association of Melbourne University |
| Vietnamese Herald Newspaper | Kew Baptist church | Vietnamese Students Association of Monash University |
| SBS Radio – Vietnamese Section | Hoà Hảo Budhist Faith | YietKieu scouts group |
| Community  radio channel FM 88.9 Vien Xu | Caodaism Faith | Phu Dong scouts group |
| Community  radio channel Vien Xu | Blog 8406 | Hoa Lu scouts group |
| National radio 2VNR | Freedom Day Club | Vietnamese Catholics Youth group |
| Vietnamese Television Association | Footscray Asian Business Association | Thank Nien Thien Chi youth group |
| Ly Huong online | Richmond Asian Business Association | Free Vietnam Council |
| VietNews Newspaper | Hollywood Nails | Vietnamese Nationalist Party/Việt Nam Quốc Dân Ðảng – Australia |
| Vietnamese Herald Newspaper | LJ Hooker Glen Waverley, Boxhill |  Anti-Human Trafficking from Viet-Nam Committee |
| Saigon Broadcasting Television Network | Wingla Cake Shop | Viet Tan |
| Vietface Television | Pho Vinh | VOVINAM Victoria |
| Vietnamese Prisoners of Conscience Fund | Diamond Head Fashion | Vietnamese Elderly Mutual Assistance Ince |
| Vietnamese Senior Citizens of Boroondara | Pho Dzung | Alliance for Democracy in Vietnam |
| Vietnamese Senior Citizens of Hobsons Bay | Thi Thi restaurant | Vietnamese Teachers Association of Victoria |
| Vietnamese Senior Citizens of Brimbank | Thanh Phong Restaurant | Vietnamese Language Centre, Springvale |
| Vietnamese Senior Citizens of Preston | Hiệp Thành grocery | Vietnamese language school, Keysborough |
| Vietnamese Senior Citizens of Melbourne's North | Beyond2000 Autocare | Măng Non Vietnamese Language Centre |
| IndoChinese Senior Citizens in St Albans | Veducci Fashion | Trương Vĩnh Ký Vietnamese Language Centre |
| Vietnamese Senior Citizens of Broadmeadows | Transnet Business Consulting | Vincent Liem Vietnamese Language Centre |
| Vietnamese Senior Citizens of Collingwood | Leyton Real Estate | Âu Lạc Vietnamese Language Centre |
| Vietnamese Senior Citizens of Ashburton | Golden Chef Cooking | Werribee Vietnamese Language Centre |
| Indochinese Elderly Refugees Association Victoria Incorporated | Dragon Fitness Centre | Vietnamese Language Centre, Richmond |
| Australian Vietnamese Arts Association (AVA) | Little Saigon Centre | Bồ Đề Vietnamese Language Centre |
| Au Co & Nang Hong Dance Group | Sunshine Asian Business Association | Hùng Vương Vietnamese Language Centre |
| Tinh Thuong Foundation | Golden Plaza | Hồng Bàng Vietnamese Language Centre |
| Hands for Hope | ChảLụa Saigon | Đại Bi Quan Âm Vietnamese Language Centre |
| The Archive of Vietnamese Boat People | Nam Hiệp Centre | Hoan Thiện Vietnamese Language Centre |
| Vietnamese Students Association of Australia Alumni | Australian Vietnamese Women's Association | Lạc Hồng Vietnamese Language Centre |
| Dr Thai Thi Thu Nguyet Medical Centre | Vietnamese Families With Special Needs Inc | |